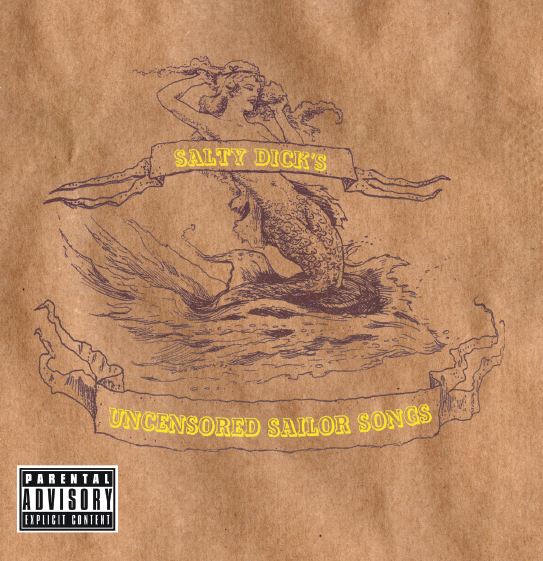 Salty Dick's Uncensored Sailor Songs
Track List
Here is a collection of songs as Sailors sung them: bawdy, raw and uncensored. Not for the timid or prissy, these are examples of the entertainment seamen past and present created for themselves. Some are in the form of chanteys: work songs from the sailing ship era. These include rare unexpurgated versions preserved by the late Stan Hugill, who sang many of these himself during his days as a windjammer sailor in the early 20th century. Also included are songs from the Royal Navy, the Canadian Navy and the U.S. Navy, covering a span of years from the 19th century to today.
This is material that most folklorists have passed over and which is still transmitted today as all songs were at one time: by word of mouth. Whether you are a student of traditional song, a lover of maritime lore, or just enjoy a good dirty song, you'll find something of interest on this recording.
Sailors, like any exclusively male community, have probably always sung "dirty" songs. Even a cursory perusal of the available literature reveals ribald songs from cowboys, soldiers, rugby players, boy scouts. The available literature is scanty, however, since few folksong collectors preserved material of this nature. It is, therefore, one of the last branches of folk music that still relies primarily on oral transmission. If you want to learn songs that deal frankly with sexual themes, find a group of men without the company of women, open up a bottle or two, and stay close until the singing begins.
For seamen, the enforced abstinence of sea voyages created a pressure that found an outlet in the singing of bawdy songs. Much material has been lost to us, but there remains a small body of song of maritime provenance that is still pure and unbowdlerized. It is my intention with this recording to preserve a few of these gems, to probe this back channel of sea music. These are songs from both the merchant service and naval tradition, songs of long ago as well as of today and songs from all corners of the English-speaking maritime world.
I have collected this material from a number of sources. From the great Stan Hugill come uncensored versions of well-known chanteys. From Jerry Silverman's invaluable work The Dirty Song Book come a number of rude songs. From musical confederates of mine come various impolite ditties. And from friends who served in the seaborne military services of Great Britain and the United States comes some of the most disgusting material of all. I thank them all, and dedicate this work to the memory of the men of the sea who found a lightening of their burdens through the uplift provided by a choice naughty song.
In particular, I wish to express gratitude to these individuals for their contributions to this recording: Tony Barrand, Oscar Brand, Jerry Bryant, Ed Cray, Tom Lewis, Dave Peloquin, Steve Sanfilippo, Kevin Watkins.
Richard "Salty Dick" Docker. PH.D. May 2004